Welcome, Player
Do you love playing sports? Do you want to be active and meet new people? Is it difficult to set up a regular time to be with your friends?
Join thousands of athletes nationwide who use ZogSports to connect and compete with like-minded, active people in their area! With us, you'll team up with other all-stars every week to play your favorite sports and chase championship glory together.
HoW Individual registrations work
We welcome all players, whether they've registered for a league as an individual or signed up with a full team. Not everyone comes to us with a full squad ready to go. We have players come from all over that are looking to join a new team, so we make it happen.
By signing up as an individual, you have a spot in our league. While other companies may not prioritize your individual registration, WE DO.
How do I get my team?
Once registration closes, we use individual registrations to create teams, bringing you together with other players looking to meet teammates, become friends, and build connections.
Thousands of players join each year with Zog, and plenty of them decide to keep the ride going the next season, signing up as a full team.
Got more questions? See below:
When registering, you'll see the option to Play With Friends. Select that option and you'll be able to create, or join, a small group. If you're the first person in your group of friends to register, create your small group and after you've paid you can invite your friends to join your group. Your team will consist of your group of friends as well as other individuals/small groups.
While other leagues de-prioritize individual registrations, we LOVE them. We can't wait to get you playing.
As long as there are enough players to form a team, you're in.
During the sign-up process, we let you pick your level ranging from casual to competitive. The league managers will place you in a division that fits your desired level of competition.

Note that due to the size of some leagues, not every league will have all three competition levels available.
After registration closes, our staff will build rosters for your league.
Once your roster is built, you'll be able to contact other players on your team. Regardless, you'll meet each other on your first game!
Yup! Our leagues are all built to have several teams comprised of individual and small group registrations because we think it's so important to bring people together through playing their favorite sports.
We've got you covered. Once you receive the league confirmation email that verifies you're in the league, you just sit back and let us handle the rest.
Leading up to the season, we'll notify you with all the important information you'll need. That will include the schedule, the team you've been placed on, and more!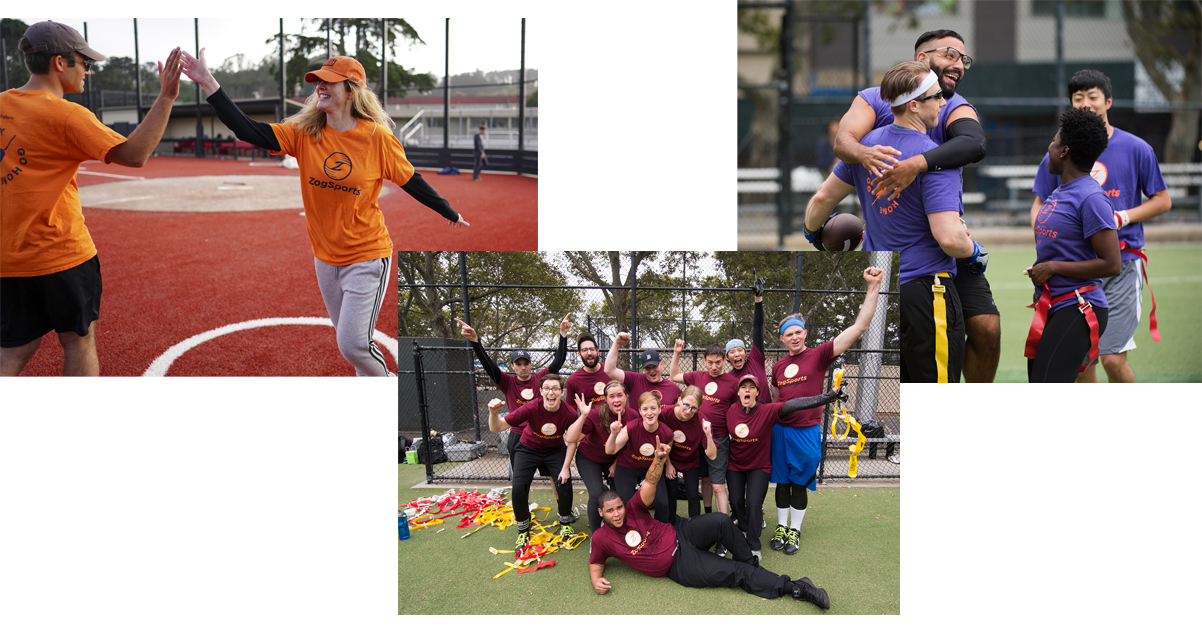 What other players are saying
Joining a ZogSports team was one of the best things I've ever done! It's such a great way to make new friends and have fun along the way, no matter what kind of "athletic ability" you have. I joined knowing not a single soul on my team and am happily doing that again this season!
Kelly M. NYC - Kickball

As someone who enjoys a good level of competition when playing sports, I've been more than happy with the quality of play in my Zog basketball leagues. I've played all over town and met some of my best friends as a result of the league - dead serious! If you're looking to break a sweat, meet like-minded people and are serious (or even not serious) about sports, Zog is the best league. Hands down.
John H. DC - Basketball

I joined a sand volleyball league a year ago and it's been a great experience! We drink beer, play volleyball and have a great time! It's the best way to relax after work and make new friends!
Yasemin R. SF - Volleyball